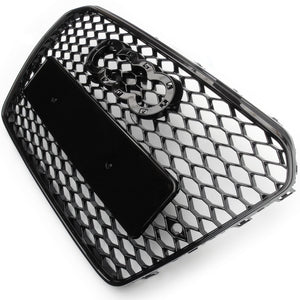 RS5 Style Honeycomb Front Grille to fit Audi A5 B8.5
All Gloss Black RS5 Style Honeycomb Mesh Grille
for your Audi A5 B8.5 Facelift 2012-2016

Upgrade your Audi A5 to look like the RS5 model. 
Transform the look of your Audi. 
Brand New High Quality Aftermarket Direct Replacement Part.
Rare parts .....Limited stock available!!!
With number plate holder and parking sensor brackets
Supplied with Badge holder for your original Audi emblem.

Please note this does not come with an Audi Emblem badge.

Fitting Details:

Fits all AUDI A5 Coupe Years 2012 - 2016

Fits all AUDI A5 Sportback Years 2012 - 2016
This fits Standard and  S-Line and S5 models. 
This does not fit the pre-facelift B8 2008-2012

This does not fit Newer B9 Model 2017 onwards
If you are unsure what part you need please get in touch we are always happy to help !